Nishmat HaTorah Yeshiva High School in Jerusalem has been inviting leaders of the Haredi community with inspirational life stories to address their students.
In the first program of its kind at an Israeli Haredi Yeshiva High School, the visiting speakers share the spiritual strength and dedication to Torah values that have made them successful. Students have opportunities to ask questions and receive inspiration from rabbis and leaders, who have played important roles in the development of Israel's Torah-observant community.
Nishmat HaTorah was established by the Netzach Educational Network in 2017, with a unique curriculum that combines high-level Torah studies with secular subjects, including 5-point Bagrut mathematics, English and computers. The Rosh Yeshiva, Rav Eliezer Steinberger, explains the benefits of the new program:
"Alongside the highest levels of Torah studies and the full Bagrut syllabus, the pursuit of academic excellence is not enough for our students. Our yeshiva aspires to develop a generation of students with an acute sense of derech eretz (ethical standards), strong moral values and broad ambitions. Our new program "Meeting Our Role Models" introduces leading figures from our community whose lives exemplify service and dedication."
The first speaker invited by the yeshiva was Rav Baruch Mordechai Ezrachi, Rosh Yeshiva of Ateres Yisrael in Bayit Vegan and a member of the Degel HaTorah Moetzas Gedolei Yisrael. The Rav spoke to the older students about the idea of being a 'ben yeshiva' and the basic requirements for becoming a 'ben Torah' and a 'talmid chacham' – labels that are rarely explained and discussed.
Israel's Ashkenazi Chief Rabbi Rav Dovid Lau was invited as an example of community leadership and service.  He gave a shiur on Gemara Sukkah and quizzed the students on the central themes of the masechet, and he was impressed by the students' grasp of the issues raised.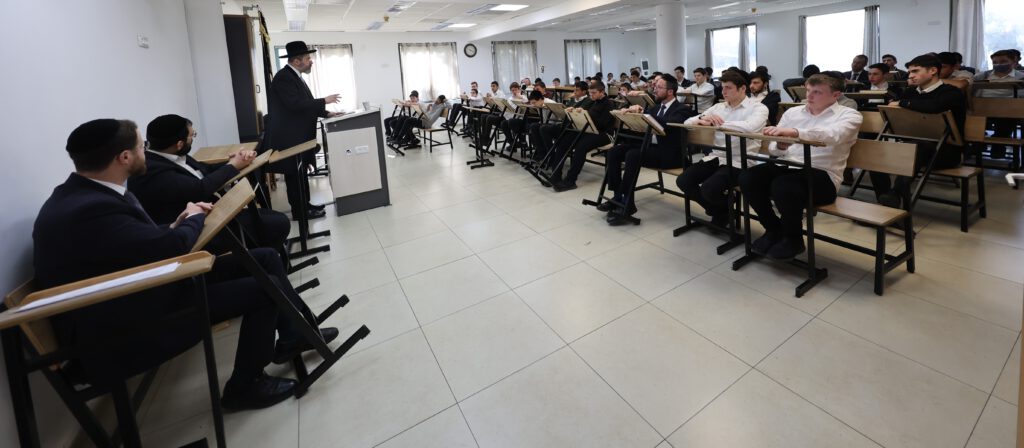 Former Prisoner of Zion from the Soviet Union, Rav Yosef Mendelovitch came to address the yeshiva on the topic of making sacrifices for one's faith. He told the boys about his attempt to hijack a plane to fly to Israel, for which he was initially condemned to death. He described the enormous struggles he faced during the eleven years he spent in a Russian prison, and his attempts to keep mitzvot, which resulted in three years of harsh punishment. His story demonstrated to the students the incredible faith and mesirat nefesh (self-sacrifice) that he maintained during his imprisonment, in order to keep the laws of the Torah in impossible circumstances.
During the three weeks leading up to Tisha B'Av, the Yeshiva brought in Rav Avraham Peniel, a survivor of the Shoah, who told his incredible life story. As a four-year-old child, he hid under a pigsty on the outskirts of the city of Tarnow in Poland. He shared with the students his difficult experiences as an orphan and the pain of bereavement. They were moved by his terrible story, but also inspired by his determination to learn Torah when he came to Israel after the war. He entered yeshiva without any experience of studying Gemara, and he has since become an influential teacher and talmid chacham.
Another inspiring speaker was Rav Mordechai Dimentman, a bereaved father whose son Yehuda Dimentman hy"d was killed in a terrorist attack in Homesh in December 2021. The Rav spoke about his son, who was a 25-year old yeshiva avreich at the time of his murder. He showed the students pages from his son's notebook, where the young man wrote about his commitments to become a better person and to serve Hashem more faithfully, including striving to respect his parents more and to learn Gemara with more dedication.
In one particularly heart-breaking note, he wrote about his efforts to sanctify Hashem in his daily life, which he said was harder than the one-off act of dying 'al Kiddush Hashem'. Tragically, in his short life he achieved both. Rav Dimentman emphasized his son's amazing dedication to learning Torah and to self-sacrifice for the sake of settling Eretz Yisrael.
This presentation took place during the Ten Days of Repentance, and inspired the students at Nishmat HaTorah to take on commitments to increase their learning and mitzva observance, and to live their lives 'al Kiddush Hashem' in memory of Yehuda Dimentman.
This year, the yeshiva is planning to bring in further role models to address the students and inspire their spiritual development. The goal of the program is to help these young Torah scholars to develop strength of character and to graduate with the tools for personal, Torah and professional growth.
This article appeared in Hebrew on the Kikar Shabbat website.